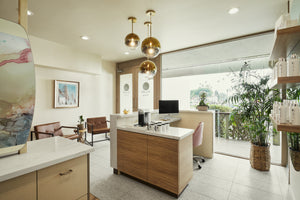 Tina Tesch Stylist/Owner
Established stylist, salon owner, mentor and haircare
brand developer.
I specialize in lived in color and custom extension work. I love building confidence in people by creating the best look possible for your lifestyle. My artistic reach has developed way beyond the salon and into manufacturing and developing my own personal hair care brand. We use it here in my salon daily on all of our guests and they love it! It's hair and life changing! All my products are featured here on my online store and inside my salon. If you have any questions please reach out and I will recommend the best hair care regime for you.
Kathleen McCallum Stylist
I was born and raised in Southern California. I am a true beach girl at heart. I have been in this fun and ever changing industry for 18 years. I specialize in blonding and creating custom color using Redkin and Goldwell. I am certified in hair extensions and keratin smoothing treatments  as well. I love getting to know my clients and making them feel as beautiful on the outside as they are on the inside. My biggest joy comes from seeing the smile on
your face when I'm done. 
I can't wait to see you in my chair.
Kathleen Andersen Stylist
Kathleen is a born and raised southern Californian. After high school she attended Paul Mitchell the School in Costa Mesa and established her career in Orange County. Kathleen has since worked in Dana Point doing hair and making people feel beautiful for over 12 years. She is certified in Brazilian Blowout and Keratin Smoothing treatments as well as four extension methods. She specializes in blonding work, although she does have extensive color experience in vibrant reds and rich brunettes. Kathleen uses top of the line products to achieve not only beautiful color, but to also preserve the integrity of the hair for her guests.
Nicole Carcerano Stylist
Hello! I've worked at Beaushe since our opening in July of 2021 and worked alongside our owner and my mentor Tina Tesch for the last 3 years. I have been in the industry for 6 years and absolutely love hair and love getting to know everyone that sits in my chair! I specialize in precision balanced cuts, redken and goldwell color, keratin treatments and multiple methods of extensions! Living so close the the coast has inspired me to create gorgeous beachy hair without ever having to step foot on sand!
Can't wait to meet you!
Sandra Figueroa Stylist
Hi, my name is Sandra! I have been in the hair industry since 2019 and with Beaushe Salon since August 2021. I am so excited to be working with our owner and my mentor Tina! I was raised in Southern California and attended Paul Mitchell the School in Costa Mesa. I love all things blonding and extensions! I am your girl for all things styling, grey coverage, and extensions. My favorite part of a service is seeing how small changes impact our clients. 
I can't wait to see you in the salon! 
Francy Ortiz Stylist
Hello, I'm Francy. I am from Colombia, but have called the U.S home since 1998. I love to travel, play golf and I love spending time with my family and friends. I have done hair since 2005, I am a girly-girl and the beauty industry is my passion! My favorite service to do is: Color, balayage, highlights, Brazilian Blow Outs, hair extensions and
haircut design.
I love to see my clients smile after their beautiful hair transformations!
New Stylist Coming Soon!
New Stylist Coming Soon!
New Stylist Coming Soon!